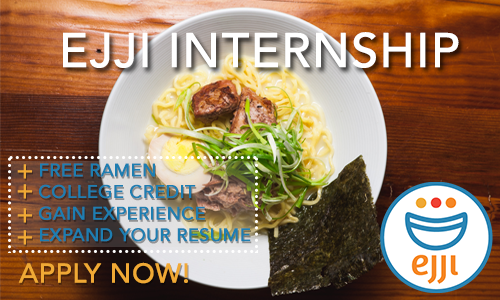 Want to work with Ejji? Now's your chance! We are looking to hire a motivated and creative college student in the Baltimore area to join the Ejji team and be our new Ejji Marketing Intern for the Summer or Fall semester.
This Marketing Internship will consist of the following requirements:
Responsibilities:
– Must commit to to a minimum of 10 hrs. per week
– Writing 1 blog post (400 word min.) per week
– Live on-site social media management for 2 platforms (Snapchat, Instagram)
– Coordinating content to be included in our editorial calendar + bi-monthly newsletter
– Sitting in on a weekly conference call
– Coordinate between marketing staff and restaurant staff
Qualifications:
– Must be a college student, pursuing a degree in Business, PR, Marketing or Graphic Design
– Strong working knowledge of Microsoft Word, experience with Photoshop is a plus, excellent writing, organizational and conversation skills
– Ability to work independently
Compensation:
– 2 free bowls of ramen per week (must be redeemed after shift)
– Ejji employee shirt to wear while working in shop
– Ejji is willing to work with school to complete paperwork for college credit
---
Applying for a student internship can be one the most memorable and awarding experiences of your college career. Some of the pros of working an internship are networking, gaining references and experience. And if you're stuck in town for the summer, you might as well gain something from it!