Love brunch? So do we! Stop in for our NEW brunch hours every weekend from 10am-5pm on Saturday & Sunday featuring the following menu items only available during brunch: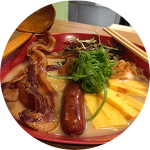 Ramen Breakfast Bowl – Ramen in a miso corn broth topped with kurobuta pork sausage, applewood bacon, tamago, a poached egg and fresh corn.
---
Seafood Okonomiyaki – Cabbage pancake with clams, scallops, and shrimp topped with Japanese mayo, scallions and bonito flakes.
---
Kimchi Porkbelly Ramen –  Fried ramen (yup, you read right) topped with kimchi pork belly, a creamy miso egg and crunchy scallions.
---
Now add a mimosa, or two, or three… (hey, Ejji is a "judge-free" zone) and you have yourself a successful brunch!