If you missed out on our specialty topping last month, then you're in for a treat this month! Last month we featured Kobe Beef, this month is Duck. And just to spoil our guests, we decided that just one type of duck wasn't enough. Therefore, we present to you our Duck Trio specialty topping, three delicious ways to serve duck: Smoked Duck Breast, Duck Confit and Duck Cracklings.
Smoked Duck Breast marinated with dried lemongrass adding a delicious citrus flavor.
Duck Confit, duck legs slow cooked in the ducks own fat, making it the most juiciest thing you can possible consume, shredded and seasoned with ginger and five-spice.
Duck Cracklings, duck skin carefully removed and crisped up until perfection. Almost like a chip, a very delicious chip…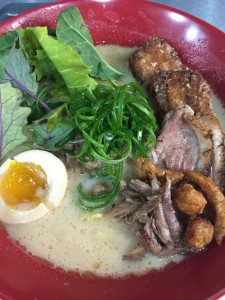 So much duck, we will have you saying "What the duck?"
Top your next ramen bowl with our Duck Trio for only $5! You won't be able to find that good of a deal anywhere else in town! Don't miss your chance to taste duck like you've never had it before!
*While supplies lasts