This Sunday, May 8th is Mother's Day. Luckily, Ejji serves Brunch on Sunday's, so you can bring your mom in for a delicious brunch with us (and she'll love you forever). Here are the Brunch specials, served every Saturday and Sunday from 10 AM-5 PM:
Breakfast Ramen Bowl  – Ramen in a bacon corn broth with kurobuta pork sausage, applewood bacon, tamago, poached egg and fresh corn
Kimchi Pork Belly Ramen – Fried ramen topped with a miso egg and scallions
Seafood Okonomiyaki – Cabbage pancakes with clams, scallops and shrimp topped with Japanese mayo, scallions and bonito flakes
And don't forget the $3 mimosas!
---
If mom can't make it out on Sunday, we also have Wine & Dine Girls Night Monday evenings with $10 bottles of wine!
---
Treat yo momma!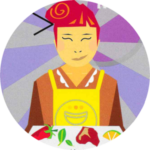 Mama Lee holds all of the secret Malaysian family recipes. Next time you're at Ejji, ask for Oscar's Mom and get her favorite assortment of ramen toppings; basil, lime, sambal, and curry beef. And it you don't finish your meal, you'll have to answer to her. Mama Lee don't mess around!