Make the world go around
Mark your calendars! Saturday, April 22nd is Earth Day and this years theme is Environmental and Climate Literacy. This campaign is dedicated to ensuring that every student around the world graduates high school as an environmental and climate literate citizen, ready to take action and be a voice for change.
What can you do to help?
Make your own act of green, by eating green this Earth Day! Eating less meat is one way you can help make a difference.
Join us this month to celebrate Earth Day by enjoying your favorite ramen bowl with our vegetable noodles instead of regular noodles. Our vegetable noodles are made in-house from spirals of carrots, zucchini, yellow squash and jicama.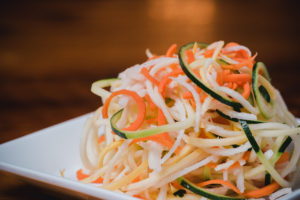 At Ejji, we are vegetarian, vegan, and gluten-free friendly which is why we offer plenty of options on our menu for everyone, including options on noodle type and a variety of topping selections. Next time you are in the shop, be sure to ask your server about our vegan and vegetarian choices.
See all our selection on our online menu.
How else can you make a difference this month?
Plant a tree
Reduce your carbon footprint
Use less disposable plastics